Jeannine Rash, owner and training director at Papillionia Dog Training Academy (PDTA), has been successfully teaching and training dogs for over 30 years.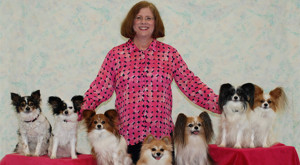 She has worked with many breeds and sizes of dogs, both with her students and her own dogs. Several of her dogs were adopted from shelters. Her personal credits include over 65 AKC and Canadian titles, as well as four Obedience Trial Championships (OTCH), 2 of the all-time top 5 Toys and 3 of the all-time top 15 Toys. Jeannine's dogs have gotten over 80 HIT and 60 High Combineds. Her OTCH point total for all dogs is over 1740. 100 is needed for an OTCH. She has placed many times in tournaments with many different dogs. Her dogs have consistently been invited to the National Obedience Championships earning invites every year since 1999. Her Paps have won Obedience dog of the Year thru the Papillon Club of America 5 times. Her dogs are known for their speed and accuracy, but most importantly many people comment on how much fun they are having.
Jeannine was asked for help by others almost right away and reluctantly started teaching at clubs and helping others privately. Jeannine's students were outgrowing her basement so in 2005 PDTA was opened. No more go out problems because of space! PDTA has grown into a 2-ring beautiful bright facility complete with kitchen and large indoor bathrooms. It is now known for competitive obedience training with a personable feel. Jeannine tailors her training for each team while relying on her proven training techniques.
PDTA also houses rally, freestyle, breed handling and pet classes taught by different groups. It has become a coveted go-to place for obedience trials because of its location, blacktopped parking and large grass covered outdoor potty areas. PDTA also hosts outside obedience instructors for seminars.