Therese "Nana" McCann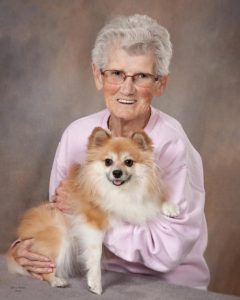 Thursday, October 13, 2016 at 1:30 pm
Immediately Following Her Funeral
Join family and friends at Papillonia Dog Training Academy to share a special afternoon.
Every Thursday Nana brought Rose for training and stayed for lunch with the class. Dogs quickly learned her snacks were the best. Bites of roast beef sandwiches and licks of ice cream were normal tidbits. It was hard to compete with Nana for tasty snacks.
Therese found and fell in love with Rose at the SPCA. They spent many hours at Papillonia as Jeannine trained Rose. She spent many hours traveling with Jeannine as they drove to matches and trials. Therese was so proud of all the success Rose had in the show ring.
While an RSVP is not required, it would help with planning to have an estimate on numbers. Please email Rebecca Elliott if you are planning to attend. If you are interested in helping with food, email and mention if you can bring a side dish or dessert. Sandwich trays, paper products and drinks will be provided. Phone: 301-693-2432 Email: dogsrfun4rae@gmail.com
Well-behaved dogs are welcome to attend. Dogs may be left at PDTA, in a sturdy crate, prior/during the funeral. The building will be open from 10:00 – 11:00 am and then after the funeral. Please don't arrive outside of this time window as the building will be locked. PDTA is approximately 4 miles/8 minutes from St. Joe's.
There will be a York SPCA box for donations in her name (checks, toys, food, collars, etc). This SPCA was a favorite for Therese. https://www.ycspca.org/support-ycspca/
Papillonia Dog Training Academy: 1127 Felton Rd Red Lion, PA 17356
Funeral: St. Joseph Church 251 E. Main Street Dallastown, PA 17313
11:00 am Family and Friends Gather                        12:00 pm Funeral